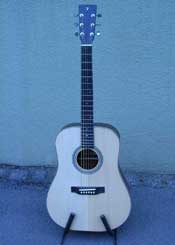 PHOTOES ...
HIGH-QUALITY INSTRUMENT FOR HIGH-QUALITY PLAYERS (AND BEGINNERS...)
PRICE ROUGHLY FROM 15 000 CZK
(1000 €)
GUITAR MODEL "D" (DREADNOUGHT)
THIS TYPE OF GUITAR WAS DEVELOPED BY C.F. MARTIN ALREADY AT THE TWENTIES OF 20TH CENTURY. IT IS PROBABLY THE MOST UNIVERSAL TYPE OD ACOUSTIC GUITAR WITH METAL STRINGS; CONVENIENT BOTH FOR SUPPORTING PLAY AND SOLO PLAY WITH PLECTRUM AND FINGER PLAY. ALMOST ALL INSTRUMENT MAKERS (INCLUDING ME) RESULT FROM THIS MARTEN'S MODEL.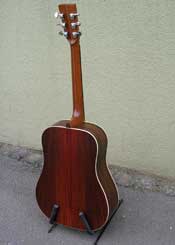 THE EXAMPLE OF ACOUSTIC GUITAR BUILT FROM CEDAR AND MAPLE WOOD.