PHOTOES ...
CLASSICAL INSTRUMENT FOR BLUEGRASS USAGE IT IS POSSIBLE TO BUILD ALSO WITH ROUND..... THANK TO ITS SOUND THIS IS AN INSTRUMENT NOT ONLY FOR BEGINNERS.

PRICE ROUGHLY FROM 1200 €
RESOPHONIC GUITAR (DOBRO) - SPIDER
I BUILD THIS INSTRUMENT ESPECIALLY WITH ANGULAR NECK FOR BLUEGRASS IRON PLAYING. I CAN BUILT THIS INSTRUMENT EITHER WITH PLYWOOD OR ALL-SOLID CONSTRUCTION. THERE IS NO BIGGER DIFFERENCE BETWEEN PLYWOOD-MADE OR ALL-SOLID INSTRUMENT, HOWEVER ALL-SOLID INSTRUMENTS ARE OFFERING MORE COLOURED SOUND "GILDED" BY USED MATERIAL – KIND OF USED WOOD. TO BUILD THOSE INSTRUMENTS IS POSSIBLE TO USE ALL WIDE RANGE OF GUITAR WOODS. I'LL BE GLAD TO HELP YOU TO CHOOSE THE RIGHT ONE. THIS INSTRUMENT I CAN BUILD AS NORMAL NECK GUITAR, BANJO, TENOR OR PLECTRUM GUITAR AND ESPECIALLY AS BASS GUITAR, WHICH AS THE ONLY ONE IS ABLE TO SUBSTITUTE A CONTRABASS.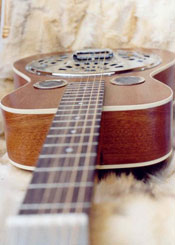 THE EXAMPLE OF DOBRO SPIDER BUILT FROM ZEBRA AND MABLE WOOD.
THE EXAMPLE OF DOBRO SPIDER-BASS BUILT FROM ZEBRA AND MERANTI WOOD.
THE EXAMPLE OF DOBRO SPIDER BUILT FROM SPRUCE+INDIAN ROSEWOOD+MAHAGONY.
MODERN STYLE, FINISH: SHELACK.